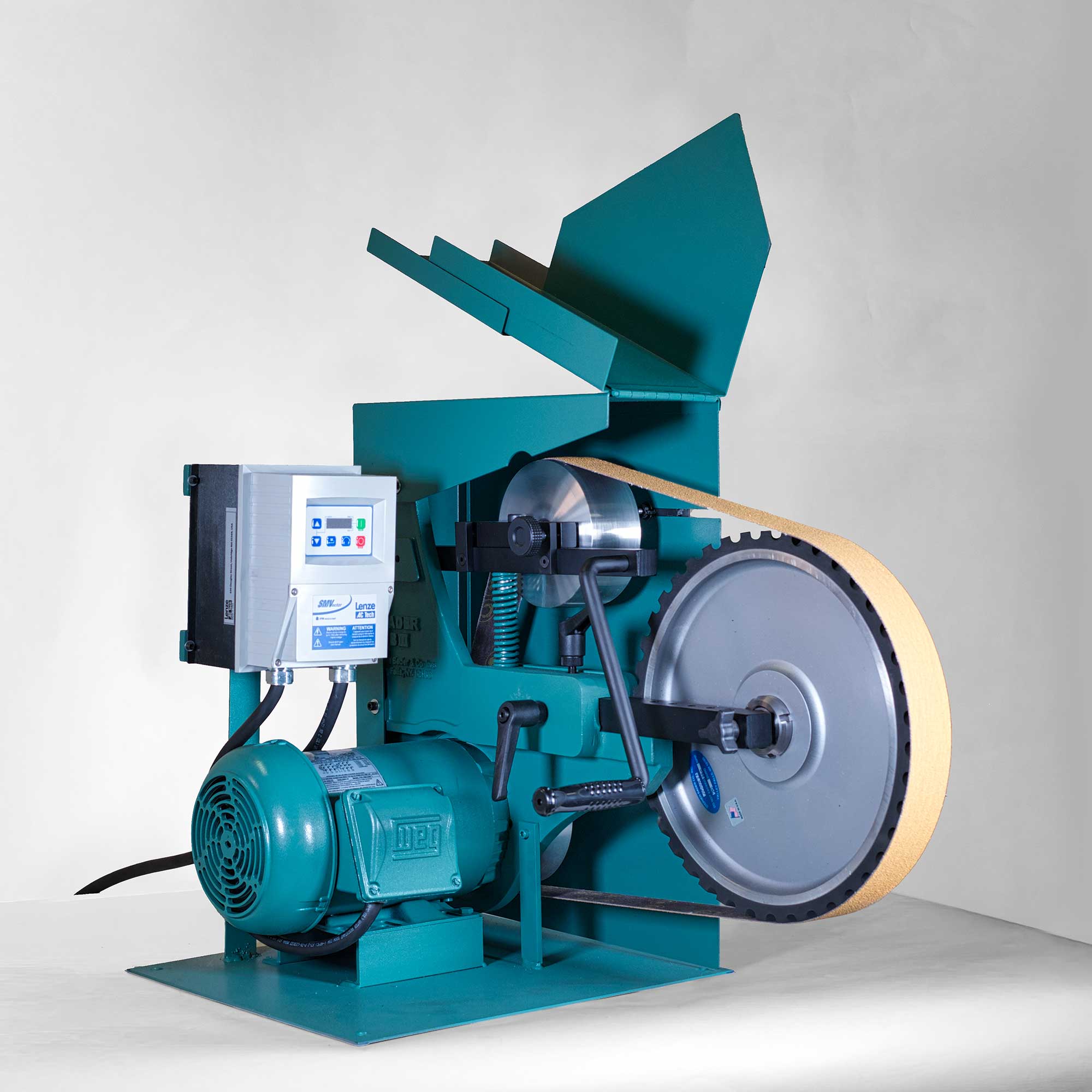 Rubber (neoprene or urethane) contact wheels come in many hardnesses to fit a variety of grinding and finishing needs. The face of rubber wheels can be shaped to aid in polishing recesses and radii. Neoprene wheels can also be serrated to increase cut rate and increase belt life.
Concerned with safety?
Have a 20- to 50-year-old Bader grinder that's still going strong? Our newest belt guard and adjustable hood fit our earliest machines. Guard your belt, protect your pinch points and get right with OSHA.
Neoprene wheels are defined by both firmness and size:
Small – 5″ or less in diameter with shaft and bearing included. Must specify HDBJ, 30MT or 30ML shaft type when ordering.
Large – more than 5″ in diameter and have a 1 ½" arbor hole. Does not come with hub/shaft.
Wheels are ordered by specifying:
Plain or serrated
Shaft type (for wheels 5 inches or less in diameter)
Wheel diameter
Rubber hardness

Hard – (90 durometer) for aggressive cutting with coarse grit belts.
Medium – (70 durometer) for a good balance of cutting and operator comfort.
Soft – (50 durometer) for fine finishing with fine grit abrasive belts.
3″ diameter and smaller are rated for 3000 SFPM or less.
Urethane wheels are available at a price multiplier of 1.5. Similar to standard large and small neoprene. Not available in serrated.
All prices include shaft and bearings.
Our goal is to provide versatile, durable grinding and polishing machinery, parts and accessories at a reasonable price with prompt, courteous and knowledgeable service.
Browse Our Contact Wheels
Your passion is our business.