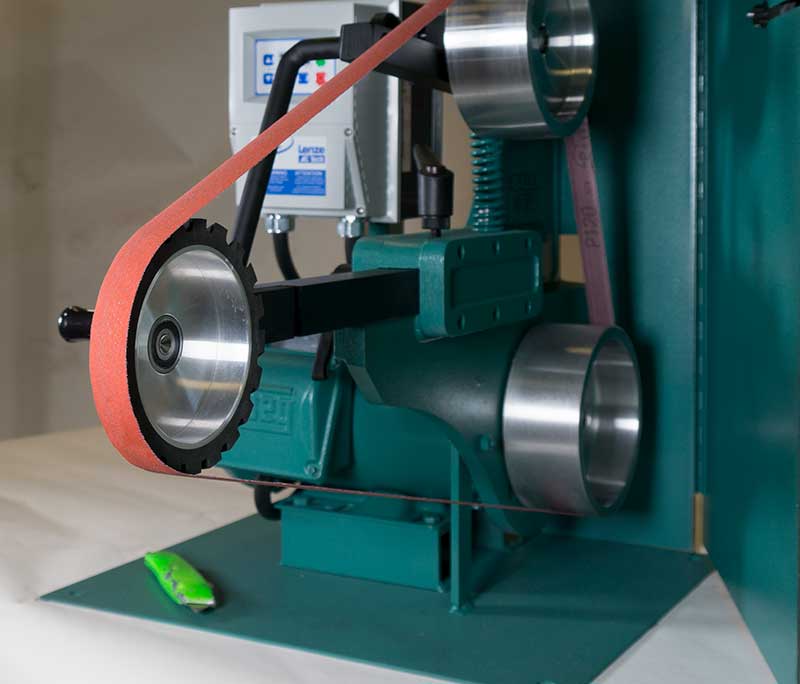 Bader polishing and grinding equipment is so versatile, well-designed and reliable that is fixture in the workspace of every type of creator who values precision and productivity.
Handcraft metal working such as knife and sword makers, glass blowers, and firearm restorers
Aircraft manufacturing
Automotive manufacturing
Medical manufacturing
Turbine manufacturing
Marine manufacturing
Cutlery manufacturing
Agricultural
First let me tell you and to keep the record straight, I do not work for, represent, or are involved with any of these people, it is just that these people have been great to deal with. I am referring to the Stephen Bader Co., and this is the machine I am going to talk about.
The new machine that came out about five years ago, called the BIII, is to me the best machine made specifically for knifemakers, and was developed by the feedback of well known knifemakers. One suggestion that I would start with, would be to tell you to spend the extra cost for a variable motor than a single-speed machine. The day you use a variable-speed machine will change your life and you will want to trade the machine if you have a single-speed type. Things would be much easier and safer with the variable speed.
All the contact wheels and accessory arm changes are quick and easy – no tools are required. The idler pulley belt tracking system is easy and precise. The belt tension is very adjustable. You can use contact wheels from 1/2" to 14" in diameter and from 1/8" to 2" wide wheels with a 72" belt length. It has all the necessary parts like, platen and wheels for slack belt, a fork tip, and a combination of contact wheels that can be rapidly interchanged.
The standard package includes an 8"x 2" contact wheel and a fork tip with a 1/2", 3/4", or 1" diameter x 2" wide wheel. One very important issue with me is that this is not a "ONE MAN" type of operation. This company has been making belt grinders, polishing machines, contact wheels and I do not know what else since 1951!!!.
This reminds me about the contact wheels they make. A lot of the other belt grinder machines on the market use the Bader contact wheels, they are great. Probably most people do not know that their primary business is not the knifemakers, but the aircraft, medical and other industries.
I have two Baders – one is almost 20 years old and is still working like new. My variable speed Bader III is a couple years old and I wouldn't trade it for anything else I have seen on the market.
I have two Baders, a BII and BIII. Both are excellent machines with direct drive, no pulleys to change speeds and take up extra room. Bader has been making grinders for over 45 years. They must be doing something right.
I purchased my first Bader grinder in 1986. Since then, I have purchased 4 more, and If I had room in my shop I would have several more. I keep buying Baders because of my relationship with the PEOPLE at Stephen Bader Co. Dan Johnson gave me more good advice when I was a beginner than anyone, and was always there to answer my many questions and support me. That level of customer support means a lot to me. That support helped me to improve my knives greatly, and their efficient processing of orders has gotten me out of many jams when I needed specific belts or wheels in a hurry.
As far as the machines go, I have yet to find a knifemaking task that the BADER cannot perform. Not to say that there aren't other excellent machines out there, but I have never felt the need to look beyond the BADER. Every knife I have made as a professional knifemaker over the past 32 years has been ground using a BADER. I have never had to replace anything but switches and fuses that wore out after years of hard use. What else could you ask for in a machine?
Your passion is our business.